March is Women's History Month, a month dedicated to highlighting the achievements of women in society and highlighting the challenges that they still face. We are so thankful for the women at Ceto and all that they bring to the table. One of the industries that women are still underrepresented in is finance.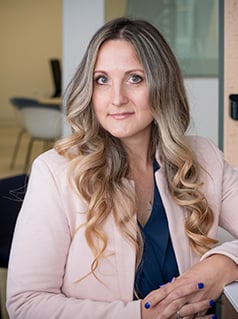 According to a Deloitte report, women make up about 50% of the financial services industry's US workforce, yet, they account for just 23% of leadership roles. As a research report from Catalyst explains, the financial services industry had a 24% gap between the rates of first promotions (from entry-level to manager) of women and men, despite asking for promotions at comparable rates.

Senior Consultant Lindsay Cantlen is a great example of what a strong female leader can accomplish in the financial industry. For over a decade, Lindsay has applied her business acumen, intelligence, ambition, and soft skills to progress throughout the industry. Below, Lindsay explains her experience as well as her thoughts and hopes for the future of the finance industry.
---
Q: What is your background in the financial/banking industry?
A: My background is in retail banking and strategic initiatives. Twenty years ago, I was a teller. I moved through various client-facing roles before transferring to strategic initiatives and employee-facing content.
Q: What would you say are some barriers women face in the financial industry?
A: Often, women look at the qualifications for certain roles and automatically rule themselves out, whereas a male would look at the qualifications and say, 'I have three out of five; I'm going to go for it.' In reality, women have a lot that they bring to the table in work and in life, and often we can do more than we assess ourselves to do.

Another obstacle that women face is siloing in the workplace. In one place where I worked, there were multiple floors and business offices, and each business line kept to themselves when they went out to lunch or drinks. Since the pandemic, it's gotten better as more are eager to collaborate.

One of my favorite senior leaders invited me and a couple of my peers to lunch. During lunch, he asked my opinion about a strategic initiative that the organization was focusing on as I was sitting with three male coworkers. It was empowering. Women have so much to bring to the table

Q: What advice would you give women just starting in the financial industry or wanting to grow their careers?
A: Women have dominated entry-level in the finance industry (in fact, over 52% of entry-level positions in banking are held by women); however, they often fall off as they go up the ranks. I think the key piece to growth is transparency and publicly acknowledging where you are at and where you want to go, and having accountability to cultivate behaviors that foster that change.

Another thing to note is that we all work differently. So often, women can become a barrier for other women instead of realizing that we are on the same team. We need to create a culture of the community over competition, creating open communication and access to leaders and training within our industry.
Q: Can you share with our readers the most interesting or amusing story that occurred to you in your career so far?
A: When I was working as a project manager for the retail market, I took on a campaign project that led to me becoming a videographer, journalist, producer, DJ, and banker. I was tasked with a large project to launch a campaign driving KPIs in the market and increasing engagement so that production would increase. I took this campaign and turned it into an engagement event. It was through this opportunity to lead the campaign that I had the opportunity to stretch my other skills while mimicking DJ Steve Porter, who does mash-ups of different players and adds music to them. I also began interviewing the market at the event, learning what was valuable to them and what would engage them in production, and thinking about how they are going to engage themselves.

It was through this experience that I learned how valuable it is to bring nonfinancial skills to the table in the financial industry. This creative campaign resulted in one of the largest and most profitable results in recent years and resulted in my promotion to President of the Bank Resource Group for the next several years.

Q: Are there any women in banking that inspire you?
A: I'm inspired by other women's backgrounds and stories. American Banker is one of my favorite reads, and I've enjoyed reading their "Most Powerful Women in Banking" over the last 20 years. Reading about women who have held similar roles with similar passions is inspiring and sparks personal growth and goals. I also enjoy following Kate Quinn, the Chief Admin Officer for U.S. Bank, because of her leadership qualities in strategic initiatives.
Q: What qualities make a great female leader?
Being willing to learn, able to delegate and empower others, prioritizing mental well-being, having strong verbal and non-verbal communication skills, the ability to balance risk, and possessing a strong business acumen are some of the qualities that make a great female leader.
Q: What is your most memorable trip from your time at Ceto so far?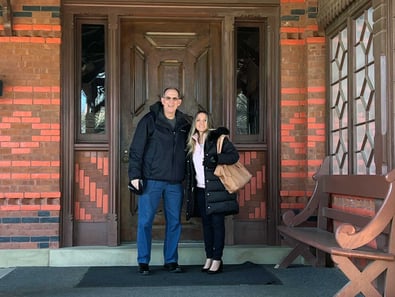 A: John Matecker (SP) and I got to visit the Mark Twain house. I love having the opportunity to travel for work, and when possible, one of my favorite things is finding a historical spot in the area that helps us connect to clients, see other cultures, and be exposed to other financial institutions. Traveling provides a lot of room to grow and be a lifetime learner.
---
So, what can financial services organizations do to advance the growth of women in leadership positions in the financial industry? Deloitte recommends strategies and areas of focus, including understanding and embracing the multiplier effect, improving transparency and accountability, investing in programs that support women reentering the workforce, and supporting and enabling mentorship, sponsorship, and peer networks.
At Ceto, we know firsthand the successes that can come from women in leadership like Lindsay. We are thankful for their dedication, wisdom and the skills that they share, and the talent they add to our company culture. We believe that a great start to honoring women at Ceto, leaders in our community, and in finance are through sharing their stories and we look forward to doing that throughout the years.