VENDOR LINK
Vendor Management & Contract Negotiation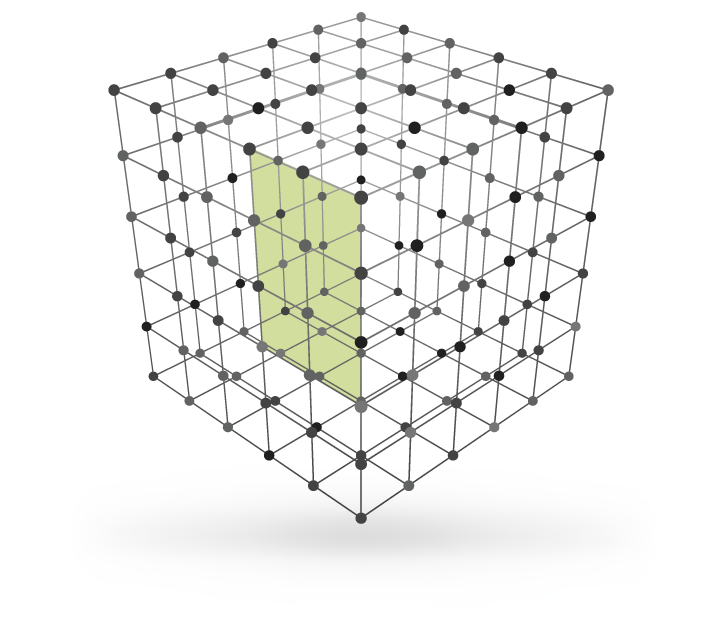 Reduce Your Contract Costs with Vendor Management & Data-Driven Insights
$50,000 - $100,000
New Cost Savings Annually
per $100 Million Total Assets
| A CRITICAL ELEMENT FOR VENDOR MANAGEMENT
Linking Vendor Management & Contract Negotiation Strategies
Vendor Link is a vendor management and cost reduction solution that focuses on contract management and negotiation, and compliance for vendor risk mitigation, with an analysis of more than 185 vendor contract cost areas while providing insights to optimize vendor performance.
| VALUE PROPOSITIONS
ROI Guarantee
Customized Engagement
Actionable Intelligence
Third-Party Consulting
Holistic Assessment
Resource Efficient
Business Intelligence
Analyze Benchmarking & Costing Metrics

Improve Visibility of Contract Costs & Terms

Enhance Contract Management & Strategy
Contract Negotiation
Reduce Vendor Contract Costs

Negotiate Best Contract Prices & Terms

Mitigate Vendor & Contract Risks

Improve Vendor Service & Performance
| VENDOR & CONTRACT ASSESSMENT
Business Intelligence
INDUSTRY DATA & BEST PRACTICES
Our team of analysts evaluate and monitor industry trends to keep our pricing strategies sharp and up to date. Additionally, we leverage our internal database of more than 1,000 contracts to benchmark your current costs against others in your peer group.
COST & RISK ANALYSIS
Once we have a clear understanding of your vendor contracts, we analyze the costs and risks associated with each one. Through our work, we'll identify areas where you may be overpaying or exposed to unnecessary risk.
DATA MINING & ANALYSIS
We use data mining techniques to extract key information from your contracts and compare it against our internal database. This helps us identify trends, benchmark your costs, and develop customized strategies for each engagement.
BENCHMARKING & COSTING METRICS
We develop customized benchmarks and cost metrics for each client. This allows us to compare your current costs against industry standards and our target cost benchmarking data.
PEER GROUP ANALYSIS & COMPARISON
We compare your costs against those of your peers to identify areas of improvement and leverage opportunities to aid in our negotiations.
Contract Negotiation
CONTRACT APPRAISALS & NEGOTIATION
We begin by conducting a detailed appraisal of each of your contracts, comparing your costs against industry standards and our target cost benchmarking data. From there, we develop customized negotiation strategies for each vendor engagement.
COST ANALYSIS & CONTROL
Through a rich analysis of your current costs and vendor fee structures, we'll identify opportunities to reduce business expenses by better managing and analyzing your vendor contracts.
RISK ANALYSIS & MITIGATION
We help financial institutions gain more awareness of the potential risks associated with your vendors and take steps to mitigate those risks.
VENDOR PERFORMANCE ENHANCEMENT
We'll work with you to craft vendor performance enhancement strategies that include performance review guidelines and improved service level agreements to improve your expected level of vendor service.
CONTRACT MANAGEMENT & STRATEGY
Our team of proven professionals has deep experience working with financial institutions to develop customized strategies for implementing and overseeing all stages of a contract to increase efficiency and decrease risk.
| DATA-DRIVEN ANALYSIS & INSIGHTS
185+ Contract Areas
5 Key Vendor Contracts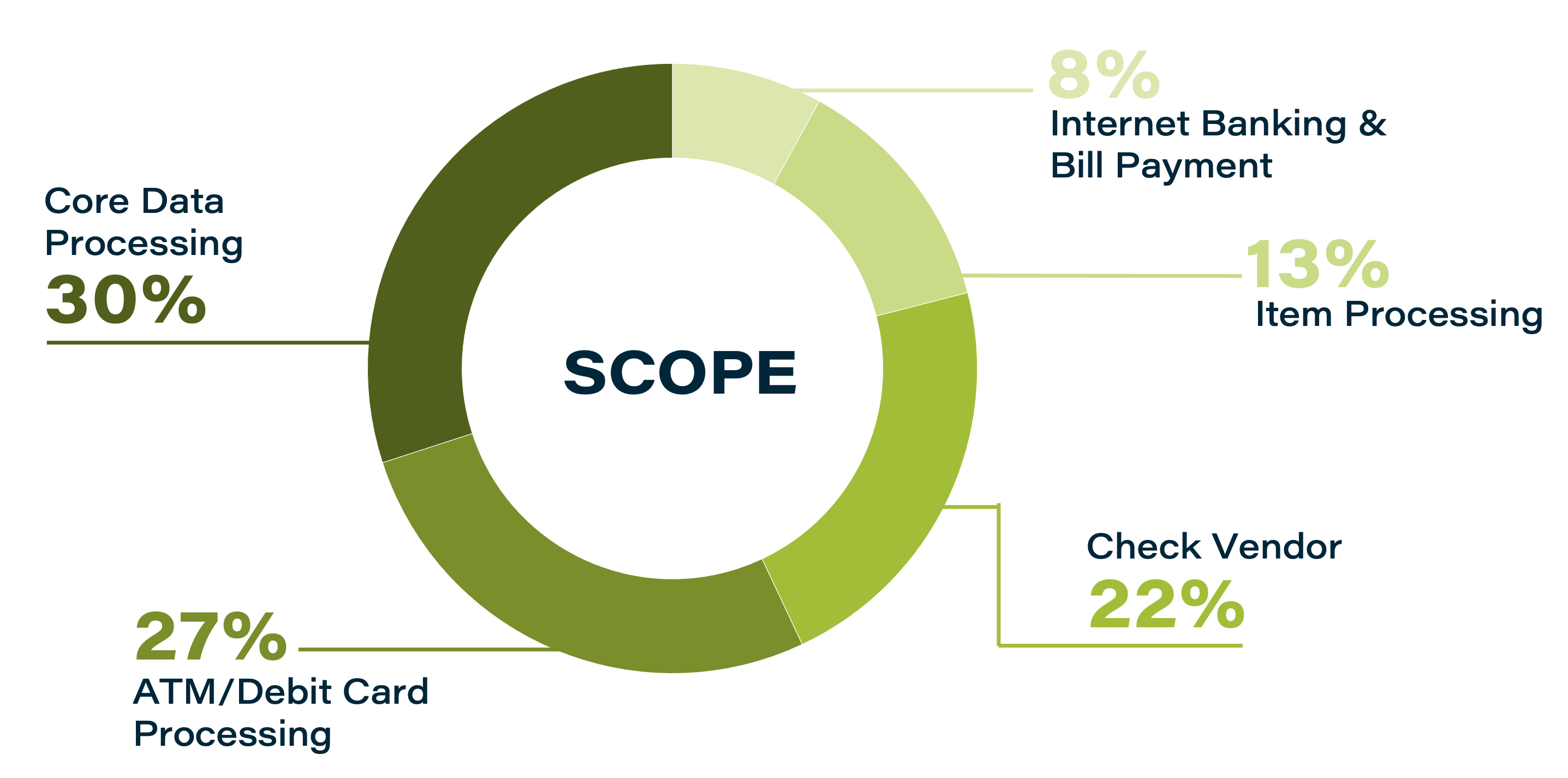 | CORE DATA PROCESSING
55+ contract cost components or areas:
(service bureau only)
Cost per Open Account

Cost per Closed Account

Fee per ACH Transaction

Accounts Payable Module Fees

Terminal per Device Fees

Fee per ATM/Debit Card Record

Fee per ATM/Debit Card Transaction

All Other Related Charges & Fees
| ITEM PROCESSING
25+ contract cost components or areas:
(service bureau only)
Electronic In-clearing Capture
Outgoing Return Items
Merchant Capture
Branch Capture
Statement Composition & Rendering
eStatements & Notice
All Other Related Charges & Fees
| INTERNET BANKING & BILL PAYMENT
15+ contract cost components or areas:
Internet Banking
Monthly per User Fees

Per Transaction Fees

Fees for Cash Management Services
Bill Payment
Monthly per User Fees

Monthly per Bill Fees

Popmoney Services
Mobile Banking
Monthly Base Maintenance

Cost per Enrolled Device

Check Deposit Capture
| ATM/DEBIT CARD PROCESSING
50+ contract cost components or areas:
PIN/POS Debit Card Transactions

Signature Debit Card Transactions

Card Account File Management

ATM Residency Fees

ATM Terminal Driving & Support

All Other Related Charges & Fees
| CHECK VENDOR
40+ contract cost components or areas:
Cost per Box of Checks

Expense Credits

Net Sales Rebate Percentage

All Other Related Charges & Fees
| 3-PHASE APPROACH TO VENDOR EXCELLENCE
Minimal Disruption. Maximum ROI.
We value your time and understand that your team is juggling other strategic initiatives that are equally instrumental to the growth and profitability of your organization.

As such, we are committed to minimizing the disruption to your team's daily schedule, as we do not require any onsite visits for the engagement.

We conduct 95% of the effort on the project, while working independently within a flexible framework and schedule that fits within the needs of your team members.
Phase I: Appraisal [2 Weeks]
Collect Contracts for Review & Three Months of Invoices
Perform Analysis & Quantify Cost Savings
Complete & Deliver Appraisal
Phase II: Plan [2 Weeks]
Review Appraisal & Discuss Options
Create Action Plan
Phase III: Negotiation [TBD]
Receive Authorization to Begin Negotiations
Submit Proposals to Vendors
Complete the Negotiation Process
Execute Renewal Contract(s)