For over twenty-five years, our firm has made communities stronger by helping to make their financial institutions more profitable.
A Timeline of Our History
1994
Founding of Ceto and Associates
1st Revenue Enhancement ("REP") Client
1st Deposit Reclassification ("DR") Client
2003
Reaches 500 Banking Clients
2004
1st C3 Financial Client
2007
Reaches 1,000 Banking Clients
2008
Spins off Software Business (DR & C3 Financial) to Form New Company, LogicPath
2009
Creates the "Consulting Services Group" Division
2012
Rebrands Revenue Enhancement (REP) to Market View
2013
Unveils New Consulting Solutions, Clear Point and Vendor Link
2017
Reaches 2,000 Banking Clients
2020
Douglas Ceto Appointed President & CEO
2021
Forms New Market Research & Insights ("MRI") Division
2022
Founder Nicholas Ceto, Jr. Passes Away at 88
Ceto and Associates Rebrands and Changes Name to Ceto
Rebrands Consulting Services Group Division to "Consulting Solutions"
A Legacy Built On Community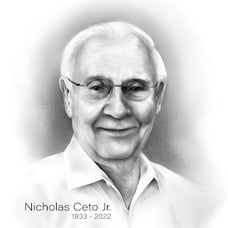 Nicholas Ceto, Jr. founded Ceto and Associates in 1994 after he retired from KPMG, serving as the company's National Partner in Charge of their Revenue Enhancement Consulting Services. Before Ceto, his professional career included various management consulting engagements with more than 1,000 bank clients in the U.S., Europe, Canada, Australia, and other countries. His work encompassed virtually every phase of banking activity.

Nick grew up with humble beginnings. He was raised by his immigrant father, who came to America from Italy through Ellis Island in New York City. With no education and very little knowledge of the English language, Nick's father opened and owned a local barber shop, working hard to support his wife and the children. Nick took notice of his father's dedication and watched carefully as he worked at the barber shop with his father as a boy sweeping up hair from the floors and shining shoes for their customers.

The barber shop was an exciting place for Nick at a young age, as he got the opportunity daily to listen to all the fascinating conversations from their customers, which included a long list of doctors, lawyers, and bankers, talking about their businesses. Nick was a quick study and always curious to learn more, even as a boy. He was particularly intrigued by the stories told by the financiers and bankers, which included their work in helping families buy homes, start small businesses, and the like. Nick liked the idea of using finance to help people fulfill their dreams. In fact, he enjoyed these stories so much that this idea inspired him to choose a career path in banking.

To embark on this journey and achieve his great vision, Nick set his eyes on receiving higher education, as he received his undergraduate degree from Lafayette College. He also received a full scholarship to Wharton Business school's MBA program. Nick's education set the foundation for what would become an extensive, successful career in the banking industry! His accomplishments are significant, including the following just to name a few:
Developed and implemented revenue enhancement programs in over 150 of the nation's largest commercial banks.

Developed a Deposit Reclassification methodology, approved by the Federal Reserve System, which increased earning assets, by almost $20 billion, for over 2,000 of the nation's banks and credit unions.

Served as a consultant to the Federal Reserve System at various times on check collection issues and regulations, including Regulations D and CC, as well as bank examination procedures and frequency.

Assisted in the formation and operation of the Central Bank of Spain. This eighteen (18) month study, among other things, encompassed the design and implementation of all internal operating systems; development of human resources manning chart and organizational framework; and assistance to the Spanish Government and the Central Bank in developing a five-year socioeconomic plan.

Re-organized the internal audit departments of three (3) major, state-wide multi-bank holding companies to increase audit effectiveness and coverage. Particular emphasis was placed on the loan review and data processing functions.
Nick was just getting started! Upon his retirement from KPMG, Nick consciously decided to leverage his many years of banking experience into creating a new company, Ceto and Associates, that would specifically focus on strengthening the profitability of regional and community banks and credit unions. Leaning into his career as a banker and his childhood experiences at the barber shop, he understood the value of banking in fulfilling other people's dreams and the positive impact and prosperity that can be created for local economies and communities for generations to come.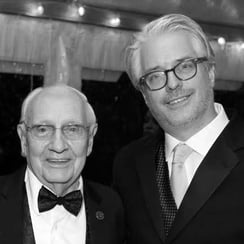 Today, Ceto has over 2,000 regional and community bank and credit union clients across the U.S. in all 50 states, with more than 25 years of experience acting as a trusted partner and advisor to the banking community. With our founder Nick in mind, we continue to build on his lasting legacy, representing our DNA – to empower banks and credit unions with intelligence and innovative solutions to drive profitability and growth, enhance shareholder value, and build stronger, more prosperous communities. This was Nick's dream, his vision, and his passion.

Under the leadership and stewardship of his son, Douglas Ceto, Nick's mission endures. Douglas spent more than 20 years working closely with Nick to help grow the Ceto business into a thriving, nationally recognized company for the banking community. He was appointed President and CEO in 2020. Today, Douglas continues to focus on fulfilling his father's mission of strengthening the financial performance of regional and community banks and credit unions so that their communities can thrive.
Nicholas Ceto, Jr., talks about his background and history in banking and how that led him to create a management consulting firm serving community banks and credit unions.