CLEAR POINT
Business Intelligence & Performance Enhancement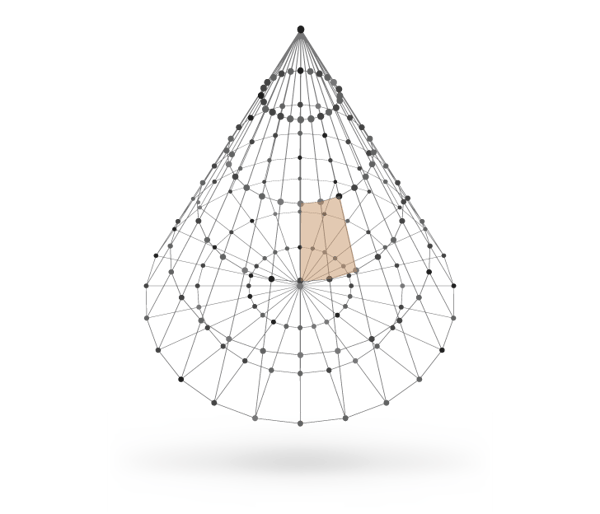 Enhance Your Performance with Business Intelligence & Data-Driven Insights
$25,000 - $50,000
New Cost Savings Annually
per $100 Million Total Assets
| A BLUEPRINT FOR BETTER PERFORMANCE
Synthesizing Business Intelligence with Performance Enhancement
Clear Point is a business intelligence and performance enhancement solution that focuses on benchmarking, process design, and operational efficiency and productivity, with a review of more than 390 process areas while providing strategic insights to optimize costs and improve organizational performance.
| Value Propositions
Return on Investment
Customized Engagement
Actionable Intelligence
Third-Party Consulting
Holistic Assessment
Resource Efficient
Business Intelligence
Provide Benchmarking & Costing Metrics

Improve Visibility of Business Operations
Improve Strategic Position in Key Markets
Performance Enhancement
Improve Process, Efficiency, & Productivity
Align Personnel & Activities with Strategy
Minimize Operating Costs, Risks, & Losses
| OPERATIONS & PROCESS ASSESSMENT
Business Intelligence
BENCHMARK & PERFORMANCE METRICS
Our team of experienced professionals will work with you to review your strategic growth goals, identify benchmarking best practices and analyze your data to develop performance improvements.
PEER GROUP ANALYSIS & COMPARISON
Analyze your competition and peer group to determine your in-market strengths and identify opportunities for improvement.
DATA MINING & ANALYSIS
We'll comb through your data to identify patterns or trends that we can use to guide our growth recommendations and implementation plan.
PROCESS MINING & ANALYSIS
We'll work with you to identify potential bottlenecks, system failures, and friction points through a detailed review of your current processes.
INDUSTRY DATA & BEST PRACTICES
We'll leverage our 25+ years of experience serving over 2,000 financial institutions nationwide to ensure our growth strategies are built on proven industry best practices.
Performance Enhancement
OPERATIONAL EFFICIENCY & PRODUCTIVITY
Actionable intelligence and best practices to reduce operational waste, increase process efficiency and improve team productivity without sacrificing product quality.
PROCESS DESIGN & IMPROVEMENT
Optimize process performance, integrate best practices, and create a more positive stakeholder experience with personalized process improvement recommendations.
TECHNOLOGY & CHANNEL UTILIZATION
We bring to bear our knowledge of banking technology best practices to analyze your tech stack and channel utilization to identify improvement opportunities.
ORGANIZATIONAL STRUCTURE & STRATEGY
Through a rich analysis of your current organizational structure, we'll work with you to determine opportunities to streamline your organization to attain cost-saving operational efficiencies.
PERSONNEL ALIGNMENT & OPTIMIZATION
A financial institution is only as strong as its employees. We'll leverage our deep experience to craft business alignment and communication strategies that will resonate with your internal team.
| DATA-DRIVEN ANALYSIS & INSIGHTS
390+ Process Areas
All Functional Areas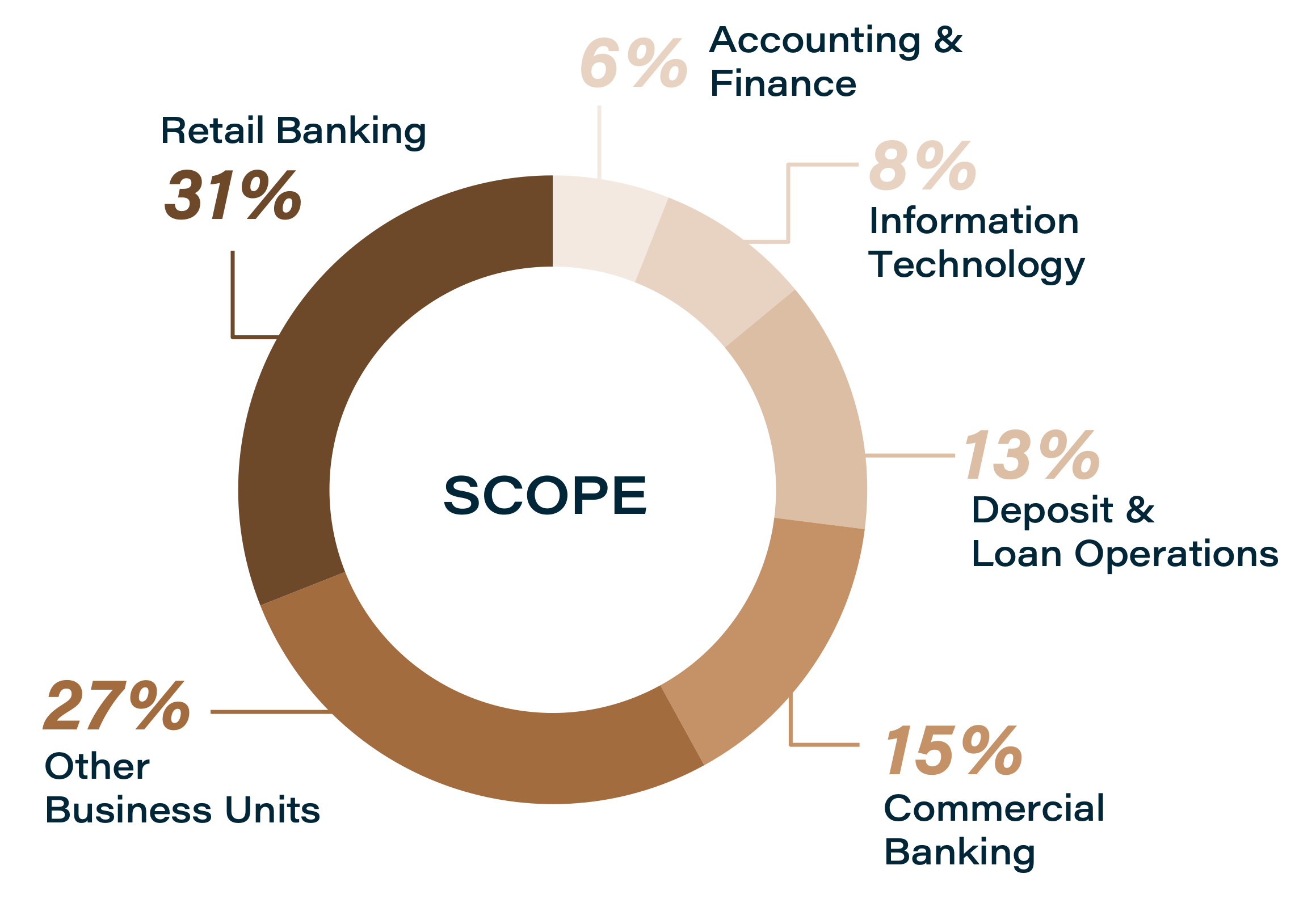 | BENCHMARK ASSESSMENT
240+ benchmark metrics across multiple functional
areas:
Areas of Operations
Retail Banking
Commercial Banking
Deposit & Loan Operations
Wealth & Trust Management
Enterprise Risk Management
Information Technology
Accounting & Finance
Marketing
Human Resources
Areas of Non-Interest Expenses
Compensation & Benefits
Information Technology Telecommunications
Marketing & Advertising
Office Supplies & Postage
Legal
External Auditing
| PROCESS ASSESSMENT
150+ best practices across 7 critical areas of process management:
Areas of Process Management
Organization Structure
Organizational Objectives
Planning
Policies and Procedures
Performance Standards and Goals
Communications
Management Reporting
Areas of Process & Workflow Analysis
Teller Operations
Platform Operations
Loan Origination
Consumer
Mortgage
Commercial
Deposit Operations
Loan Operations
All Other Major Areas of Process & Workflow
| 3-PHASE APPROACH TO ENHANCING PERFORMANCE
Minimal Disruption. Maximum ROI.
We understand that the productivity of your team is critical to the health and growth of your organization.

As such, we are able to complete 95% of this work independent of your team members, while minimizing disruption and limiting our time onsite.

Your team will spend minimal time on the overall effort, as we work diligently to coordinate with your project stakeholders on a timeline and schedule that meets the requirements and objectives of your organization.
Phase I: Diagnostic [30 Days]
Data Collection
Preliminary Analysis
Stakeholder Interviews [1-3 Weeks Onsite]
Phase II: Analysis [30 Days]
Perform Detailed Analysis & Identify Opportunities
Develop Recommendations
Create Report of Findings
Phase III: Delivery [30 Days]
Report of Findings & Recommendations [1-2 Days Onsite]
Blueprint & Action Plan