With more and more consumer-focused banking technology, routine transactions continue to get easier. Consumers are using technology for remote check deposits, bill payments, account management, and for opening loans. What? Opening a loan remotely?!? Doesn't that take time and hours on the phone or at a bank or credit union? Not anymore. Millions of consumers are turning away from typical brick and mortar financial institutions and are looking to the web for a good deal and convenience. Especially Millennials, who prefer to simply type in their needs.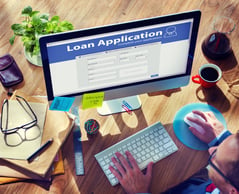 The popular Lending Club raised more than $870 million from its initial public stock offering (in fact, it was the largest U.S. tech IPO of 2014). More consumers are realizing that getting a loan doesn't necessarily mean going to a bank or credit union. Lending Club operates an online lending platform, peer-to-peer lending (P2P), which enables borrowers to obtain a loan easily and conveniently. This site (and ones like them) matches people with money to individuals or small businesses who need to borrow. The idea is that both benefit with great rates and great returns. Also, since many of the services are automated, P2P lenders can operate with lower overhead and can provide their services cheaper than traditional financial institutions. On average, borrowers reduce their rates by approx 32% from typical loans through financial institutions. Thus it is a great choice for consumers who want to seek-out the best deals possible. Plus, P2P financing provides an easy and convenient means to help them make that purchase, consolidate debt, or rebuild credit.
The loans themselves are funded by groups or individual investors. Investors can make a profit, up to 9%. If the borrower does not repay, the investors lose their money, but the default rates are running low. Another online P2P institution, Prosper, markets to potential investors by offering 'high yields, short durations', unprecedented access to the lending market, monthly cash flow, as well as investment diversification. These benefits make P2P investing a great addition to many portfolios!
After seeing the success of the average investor, Wall Street and big investors have been jumping in to buy the loans as well. This influx has added more competition, which means even better deals for the consumer.
P2P financing is expected to expand at a fast-paced rate. The Lending Club alone has done more than $10 billion in loans as of June 2015. And according to Business Insider, "This CEO is taking on the biggest banks on Wall Street -- and winning!" http://www.businessinsider.com/the-ceo-taking-on-the-biggest-banks-on-wall-street-at-the-lending-game-and-winning-2015-6

As banks and credit unions invest millions of dollars in marketing to keep customers 'loyal', is there such a word anymore in the financial industry? Financial institutions will need to offer innovative technology, improve their social interaction via smartphones, and find new and different ways to build relationships with consumers. All at a great price! Now, I don't believe traditional loans are going away completely anytime soon. However, as consumers turn to technology in order to seek the best 'deal', we will continue to move away from the brick and mortar. And as a result, we will see a decline in traditional lending.
It will be interesting to see how the face of lending continues to evolve in the next few years. I hope that banks and credit unions are ready to compete with more people joining the club!
Subscribe to the Blog
Topics